Highway Signals Traffic Safety Barriers and Road Signs
Electronic message boards, plastic safety barriers, water filled jersey barriers, highway safety signs – are just a few popular traffic safety products available on our Highway Signals website.
We are Highway Signals, the leading wholesale traffic supplies store on the web. We stock the largest inventory of some of the most sought-after products that make American roads one of the safest in the world. Our inventory also includes road cones, bollards and barricades.
Invest in Style and Safety With Our Top-Notch Traffic Safety Supplies 
We are a trusted, customer-driven, and committed supporter of small businesses across the US specializing in high-quality Made in America products at low, competitive prices.
The selection of unique and essential traffic and parking products at discounted wholesale prices set us apart from the competition! Our leading-edge products such as electronic message boards, variable message signs, plastic traffic barriers, barricade lights, and the InstAlert 24 message display are popular among industry experts for their quality, prices, and longevity. 
We Are On a Mission to Keep America Safe With Smart Technologies
Highways aren't the only place where you can find our products; crowd control supplies like plastic safety barriers and water filled jersey barriers can also be found frequently in busy public places such as parks, sports stadiums, entertainment venues, amusement parks, fairs, hospitals, casinos, shopping malls, and many other sites.
For us, safety is more than a simple word – it's a philosophy. At Highway signals, we make sure our vendors stand behind each of their products after a sale is made. Every single vendor our company works with is personally vetted and approved by our qualified team of crowd control product professionals.
Our massive inventory of traffic safety products is growing daily. For help selecting the right solution, don't forget to Call (800) 448-2647 today to discuss your project with one of our U.S. based Product Specialists to get personalized support.
Highway Signals is a division of Tamis Corporation.
HIGHWAY SIGNALS QUICK PRODUCT TABS
PORTABLE MESSAGE SIGNS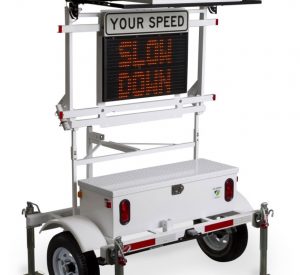 Variable message signs:
Lightweight and portable: Weighs just 43 lbs., and the exclusive folding design lets you stow InstAlert in the trunk of your vehicle
Fast set up and deployment: One-person setup and takedown in about a minute.
Simple, universal mounting: Mount the InstAlert changeable message sign on a portable post, pole, trailer, or vehicle hitch.
Durably built in the USA: The welded aluminum enclosure, concealed mounting hardware, shatterproof Lexan, and graffiti-resistant powder-coat make InstAlert extremely rugged in any weather. Complies with the Buy America Act and the Buy American Act.
Flexible Power Options: Accommodates almost any power source including Lithium battery, solar, AC, or trailer.
Ideal for smart work zones and first responder safety
Share emergency alerts, traffic information, travel times, detours, parking and event locations, weather updates, pedestrian crossings and more
Traffic Barricades for Highway Safety
---
TYPE I BARRICADES
Type I Barricades 
have sheeting/signage on the top section only. They are commonly used to mark a construction zone or work area barrier. HighwaySignals offers Type I traffic barricades in steel, wood, and plastic from several premier manufacturers.
Read More About Type I Barricades
---
TYPE II BARRICADES
Type II Barricades 
have sheeting/signage on both the top and bottom areas, and are typically larger than Type I barricades. Often used in high traffic construction areas, Type II Barricades are designed for increased visibility. Highway Signals stocks Type II Traffic Barriers from the most requested manufacturers and sells in wholesale bulk quantities.
Read More About Type II Barriers
---
TYPE III BARRICADES
Type III Barricades are the largest traffic barricades that meet MUTCD standards. They have three boards in various sizes that can be covered with sheeting or signage. Options for lighting are also available for added visibility.
Read More About Type III Barricades
TRAFFIC CONES WITH REFLECTIVE COLLARS
Orange Traffic Cones have been a staple of traffic safety for decades. Over time, the production process has evolved and improved. One of these advancements is reflective collars for increased visibility.
Read More About Traffic Cones
18", 28", and 36" cones meet NCHRP-350 Certification and MUTCD standards. Easier stacking with no pinch points for collars. Increased durability for reflective sheeting; recessed collars resist direct wear.
---
COLORFUL TRAFFIC SPORT CONES
Colorful, eye-catching sport cones may be used for a variety of purposes! Black cones can be used to signal dead ends, yellow cones can warn of wet floor hazards, pink cones can be used in breast cancer relay races, etc. The possibilities are endless! Get creative with 18″ Sport Cones today! Read More About Sport Cones
SPORT CONE STOCK COLORS:
SAFETY ORANGE
FIRE TRUCK RED
WHITE
SAFETY YELLOW
OCEAN BLUE
FOREST GREEN
FLUORESCENT LIME
FLUORESCENT ORANGE
BLACK
FLUORESCENT PINK
ORANGE CHANNELIZER CONES
Channelizer Cones are often used on residential road construction sites. They normally have at least one reflective collar and can be outfitted with a heavy rubber base for added stability.
---
COLORFUL DELINEATOR POSTS
Colorful Delineator Posts
 are available in 5 stock colors (Red, Yellow, Forest Green, Blue, and White) and are commonly used in areas such as parking lots and residential areas. The EZ Grab delineator post has a carrying handle for simple transportation and setup.
Read More About Colorful Delineator Posts
---
CHANNELIZER TRAFFIC DRUMS AND BARRELS
 Channelizer Drums (Orange Traffic Barrels) are thick plastic drums, often filled with water. Commonly found on traffic construction sites, they can be outfitted with flashing, reflective lights for increased visibility at night. Orange Channelizer Barrels are commonly placed on heavy rubber tire-rings for added stability and include bands of reflective sheeting to meet MUTCD regulations.
Read More About Channelizer Drums and Barrels
A-Frame Construction Barricades
A-Frame Barricades 
or 
Saw Horse Barriers
are a common construction site safety barricades. They are usually assembled with two
A-Frame
Pieces and either one or two
I-Beams 
connecting the two A-Frames in the middle. These I-Beams are typically outfitted with reflective sheeting for increased visibility.
Read More About A-Frame Barricades
VERTICAL PANEL BARRIERS
Vertical Panel Barriers
are a great way to create a visual barrier separating the traffic from an active work zone. These barriers are often outfitted with heavy rubber bases for added stability, reflective sheeting, and
reflective lights
for increased visibility.
Highway Jersey Barricades
Waterwall Highway Barrier
are durable polyethylene traffic safety barricades designed to minimize cracking and breaking.
Specifications
Length
6′ (182.88 cm)
Height
32″ (81.28 cm)
Width
18″ (45.72 cm)
Weight
Empty: 80 lbs (36.29 kg) Water Filled: 1,110 lbs (503.49 kg)
Material
Linear Low Density Polyethylene
Color
Orange/Red or White
---
Standard Plastic Jersey Barriers
Water Filled Plastic Jersey Barriers
are the premier barricade for highway and construction site safety. Select from several molds and models to achieve the ideal water fillable barrier for your application. HighwaySignals stocks all the most requested barriers from the most trusted manufacturers and offers them at bulk wholesale prices. Speak to a product specialist today!
Learn More About Standard Jersey Barriers
 BLOCKADER® STEEL BARRIERS
Blockader Steel Barricades or Steel Crowd Control Barricades have been the standard in bike rack barricade crowd control for over 30 years. The Blockader brand name is synonymous with durability, high quality, and reliability. Contact a product specialist today to discover the Blockader Crowd Control Barrier difference!
Read More About Blockader® Steel Barriers
---
Welded Wire Panel Temporary Fencing
Perimeter Patrol or Welded Wire Panel Temporary Fencing is the ideal solution for temporary construction fencing. These heavy duty powder coated fence panels interlock together to form a barrier around construction sites and work zones.
Standard Traffic Safety Signs
Inform drivers about upcoming hazards, obstructions, etc. with our vast selection of traffic safety signs. These signs are used on both state highways and on residential streets, and are often outfitted with reflective sheeting for increased nighttime visibility. HighwaySignals stocks hundreds of informative and directional traffic signs in various sizes and sheeting options to meet state regulations.
---
Roll Up Traffic Signs
Roll up traffic signs are an ideal solution for informing on-coming traffic about a temporary construction or work zone. Commonly used to alert drivers about an unexpected flagger or lane closure, the signs are collapsible for simple setup and efficient tear-down. Choose from several popular stock options or speak with a traffic product specialist about designing your own custom sign today!
Read More About Roll-Up Traffic Signs
---
Electronic Arrow and Message Boards
Arrow and Message Boards are a high-tech method of displaying warning signs on a highway. Many of the electronic message boards offered by HighwaySignals are solar powered and highly customizable. Upgrade your traffic and work zone signage today by using electronic and arrow message boards.
Read More About Electronic Message Boards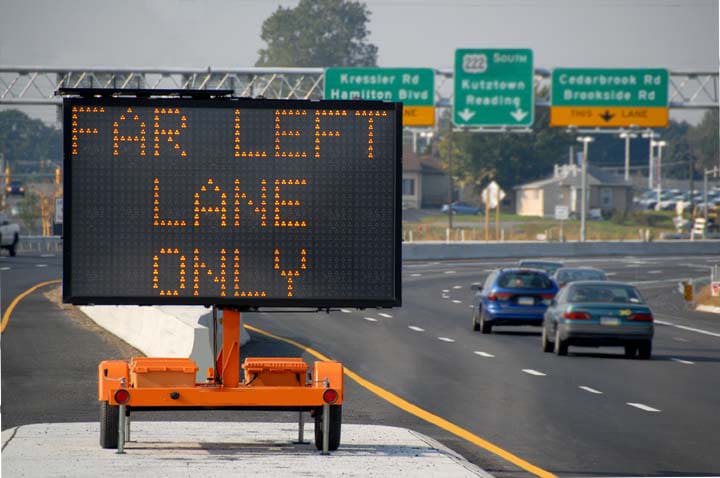 ---
Plastic A-Frame Signs
Advertise or inform pedestrians with our plastic A-frame signs. Durable and highly visible, these plastic sign frames are available in several styles and colors. Additionally, custom message board options let you personalize your communication.
Read More About Plastic A-Frame Sign Frames
Sign Stand Systems
---
Bollard Covers
BARRICADE LIGHTS
Add a second level of visibility to your barricades and signs with our wide selection of barricade lights. Meets all MUTCD and ITE specifications.
 SAFETY BATONS
Control the flow of traffic both day and night with one of our high-intensity, water-resistant electronic safety batons.
FUSEE SAFETY FLARES
Available in both 20 and 30-minute variants, our moisture-resistant safety fusees are available with either a spike, non-spike, or wire stand.
---